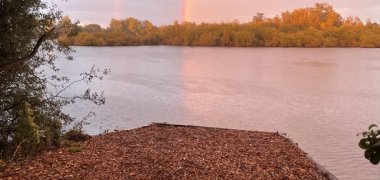 Lofts Lake – Essex Carp Syndicate
Lofts Lake is a mature gravel pit set in the picturesque countryside of Maldon in Essex. Approximately 25 acres in size and surrounded by a nature reserve, Lofts Lake is one of the most peaceful and tranquil Essex carp syndicates you're ever likely to fish.
The lake is made up of a number of bays, underwater islands and gullies, with depths ranging from 3ft – 14ft in places. A large island dominates the majority of the lake and is riddled with snags, overhanging trees and other features. Whilst the island is an obvious holding place for the carp, they certainly like to venture out into the larger bays and can be seen jumping, leaping and boshing out at distance.
Fish Stock
There are 180 fish in Lofts Lake currently. The weight of newly stocked fish range from 11lb-18lb but some of this are already into the 20's. The original fish are a majority of 20's with a few 30's. There are some originals left from the fish kill several years ago and there may be some surprises.
Security
The security and wellbeing of the syndicate, members and fish stock is something we take very seriously at Lofts Lake. Plans are already underway to install an Otter fence around the perimeter of the lake. The otter fence will protect the fish stocks from predators including otters, mink and foxes and ensure security and longevity of the fishery.
CCTV is also installed at various points around the fishery to ensure safety of our syndicate members, stock and fishery equipment.
Facilities
Secure parking
Toilet facilities
Takeaway delivery to the gate
Bait deals
Carp care equipment discounts
Swims
There are currently 19 swims at Lofts Lake:
The swims on the lake are named as follows: Pump House, Right Feeder, Left Feeder, Andy's Swim, Pipes, Car Park, Oaks, Hovercraft, Volcano, Causeway, The House, Right Field, Middle Field, Left Field, The Horseshoe, The Gate, Tom's Swim & Toby's Swim.